School & Group Information
We are excited to welcome you and your group to Rabbit Hill Snow Resort this season. Below is some important information to help your trip run smoothly. 
If you have any questions, please reach out to Cheryl in Group Services at [email protected] 
For general information and frequently asked questions click here.
What to Communicate to?
Parents
There is an element of risk involved and although supervision is provided, their child will not be supervised at all times.  Neither you, the school or Rabbit Hill is guaranteeing an injury-free activity. 

WHAT TO BRING ON YOUR VISIT
Students 
Let students know about on hill safety including Alpine Responsibility Code and proper lift usage.  Reckless behavior both ON and OFF the hill will not be tolerated.  
Rabbit Hill Snow Resort
Let us know if there are changes in attendance, arrival time, etc.  We understand events happen, so please let us know 24 hours in advance if needing to change or cancel your trip. You can contact Cheryl at [email protected] or by calling us at 780-955-2440 ext 24.
What to Bring?
Warm Clothing: snow pants, warm coat, waterproof mitts, buff or mask. NO long scarves. 
Medicines, if required.
Students, teachers, and volunteers are welcome to bring their own gear. (Helmets must be for snow sports. No bike or hockey helmets, please)
We cannot accommodate large bags, please limit the size of bags.  Students are not encouraged to 'hangout' inside, so they do not need games, books, or electronic devices. NO school textbooks please.
What can Teachers and Parent Volunteers do?
Please remember our staff are here to help and are trying to support you as best they can. 
Inside
Limit the time students spent inside the lodge to 20 minutes. 
One Supervisor will need to stay in the lodge to ensure students DO NOT wander in the lodge, and to maintain a clean zone.
Rental Shop – help with tying and buckling boots.
Outside
Teachers and Parent volunteers are encouraged to ride with the students and help them adhere to the Alpine Responsibility Code.
Know and understand lift ticket symbols. Monitor lift passes and make sure students are not riding outside their designated area. 
Please stay out of the teaching zone while students are receiving their lessons. Go ride and take the time to enjoy the hill while students are in their lessons. If you don't ski or snowboard, the deck is a great place to watch the students.
Rental Shop
Please make sure students do not have a hairstyle that will affect the fit of the helmet (ie. A bun, ponytail, headband, barrettes, etc.)
Only helmets approved for Skiing/Snowboarding will be allowed. No bike or hockey helmets, please.
Once entering the Rental Shop students will stop at the 'stop sign'.
When it's their turn, the student will give their name and school to either a Rabbit Hill Staff or a Supervisor from your school.
Measurements required for rental equipment will be taken at this time.
The student will receive a printed copy to give to the ski & snowboard technicians.
Rabbit Hill Staff will then give the student rental boots. The student will continue to the boot benches. Supervisor and volunteer help will be essential in this area.
After the boots have been buckled/laced correctly, the student will place their shoes/toques on the designated shelves.
They will then proceed to receive a helmet.
Next a technician use the measurement information and get them skis or a snowboard.
The student can proceed outside to their lessons.
Highly recommended that there be a volunteer at the exit door writing down ski/snowboard numbers on the lift tickets. This will help students find their gear later on in the day.
Snow School – Lesson Time
When students have their gear on and are ready outside, they will head toward the Snow School sign.
They be directed by our Snow School staff to the appropriate area to be assessed.
Group lesson times are based on when the students arrive on snow with their gear.
Students will be grouped with other students that have similar skill levels. If you have several visits booked, the groups may vary every time. 
Lesson length may be up to 1 hour but will vary depending on ability level. Experienced students may have shorter lessons.
After the lesson, students will be informed which runs and lifts they can use that day. The symbols on their lift ticket will be punched accordingly. 
Call Back – if a student has been assessed to be a proficient rider then they may be asked to come back for their lesson at a later time. The time will be written on their lift ticket, so please ensure the students understand that they must return for their lessons. For the safety of your students, until they complete their lesson, some may be restricted to the areas they are allowed to ride.
Adaptive Lessons – Some of our Rabbit Hill instructors have been certified to deliver Cognitive and ASD lessons. We aim for these lessons happen at 11:30am, however sometimes it is later in the day. We find that these students do best with a reduced crowd so we will provide Adaptive Lessons once the majority of students have completed their group lessons

. 

Please plan the arrival of these students with this in mind.  Please contact Cheryl in Group Services for more information on these lessons.
Terrain Park
A Terrain Park is an area with man-made and natural terrain including boxes, rails, jumps, and obstacles for EXPERIENCED skiers and boarders.  In the best interest of our guests, we have identified this area as EXPERT TERRAIN ONLY.  To give school groups additional control, we have made it off limits to all school groups without consent of the head group supervisor.  It is our recommendation that permission only be given to advanced skiers and boarders.  Please select your Park Policy.
Park Policy
At Rabbit Hill, we have 3 Terrain Parks and a Cross Track that vary in difficulty, and we will work with you to determine the best access options for the safety your group.
Park Policy Options:
No Park:  your group does not give students access in any of the terrain parks. 
We (Rabbit Hill) Assess:  You require student skills to be assessed by Rabbit Hill Park staff before being allowed in the Route 27 or Grom (River Run) Park and the Cross Track. This not part of the student's Snow School Lesson.

Rabbit Hill Park staff run park assessments every hour, on the hour starting at 11am at the entrance to the main park.
Once students have been assessed by Rabbit Hill staff, they will receive a unique mark on their lift ticket signifying they have been allowed access to the Grom (River Run) and Route 27 Parks.
NOTES
Helmets are mandatory in the Terrain Park.
Championship Park is off limits to all schools. NO EXCEPTIONS.
Meeting Place for Park Assessments will be at the Terrain Park. Either at the Temp Park on Bunny Hill or top of Route 27, whichever is available at the time of your visit.
A new Park Assessment is required for each visit.
If you are allowing access to the Terrain Parks, we recommend one of the accompanying supervisors be in the area. We patrol the Park on a regular basis but, as is the case with the rest of the Ski Area, direct supervision of your students after their lesson is the accompanying supervisor's responsibility. 
Lift Tickets
In an effort to better assist in managing the safety of your school/group, Rabbit Hill is introducing a new School/Group lift ticket.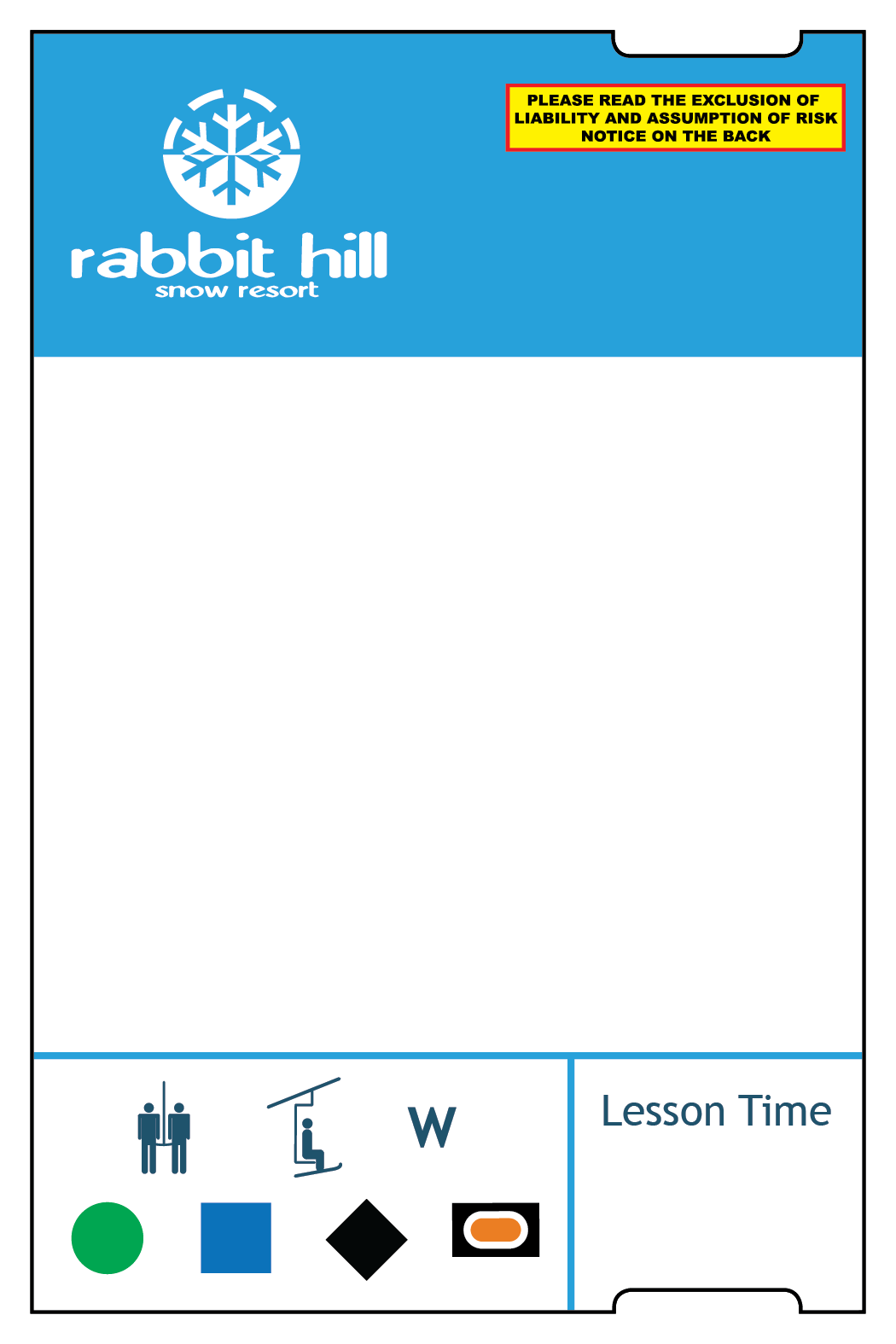 How to Read
There are 2 lift symbols, 4 Run level designations symbols, "W" (Warning), and a "Lesson Time" space for higher-level lessons call back time designation on the bottom of the ticket.
2 Lift Symbols: T-Bar, and Chair Lift.

Carpet Lifts and Rope Tow are the beginner area that everyone can use.

4 Run Level Symbols: Green Circle, Blue Square, Black Diamond, Park "Pill". Run designations match area maps and run signs located throughout the area.
Areas and lifts that the group member is allowed to be on will have a single punch through the symbol. Snow School will punch these tickets after the group member's lesson.
Tickets with no punches on them will indicate they have not had their lesson yet and will be restricted to Carpet lifts, Rope Tow, and Green runs at the bottom of the hill.
Park "Pill" will be punched by the Park Patrol only. Group members will be required to go through an assessment before they get this punch. Assessments are provided every hour, on the hour, starting at 10 am.
Enforcement
Trained Safety Marshal's at Bottom Chair and Bottom T-bar(s) daily to help enforce the ticket system.
Signage Posted Locations
Signs with explanation of the ticket will be strategically placed so that any group member that comes to the hill will have had a reasonable chance to read/become aware of the ticket process.
Staying Late
Group members that are staying after the groups designated departure time will require the following:
Schools/Groups will release group members under the age of 18 to parent/guardians only. School/Group are responsible to enforce the release of group members.
Will be issued a non-group ticket at Customer Service. Group member and Parent/Guardian will sign Complimentary Ticket sheet
Rabbit Hill will confirm that it is the parent/guardian during signing process.
Customer Service will retain the original group ticket.
Season Pass Holders with Groups
Season Pass holders attending the hill with a group are technically still under the group's supervision. As such, the following procedures will be followed.
Season Pass holders with groups will be issued a group ticket at the bus. This ensures that the pass holder follows all the same procedures for the group, including but not limited to, lift access, run access, and park policy. Customer Service will account for these with the group supervisor during invoice confirmation.
Using the Lifts
Obey all posted instructions.

Students will not be able to use a lift unless an instructor has indicated on their lift ticket.
Do Not cut lift lines.
Alpine Responsibility Code
The Alpine Responsibility Code is a list of common rules and guidelines for participating in Skiing and Snowboarding. Make sure your participants "know the code" it is a great tool to help promote on the snow safety!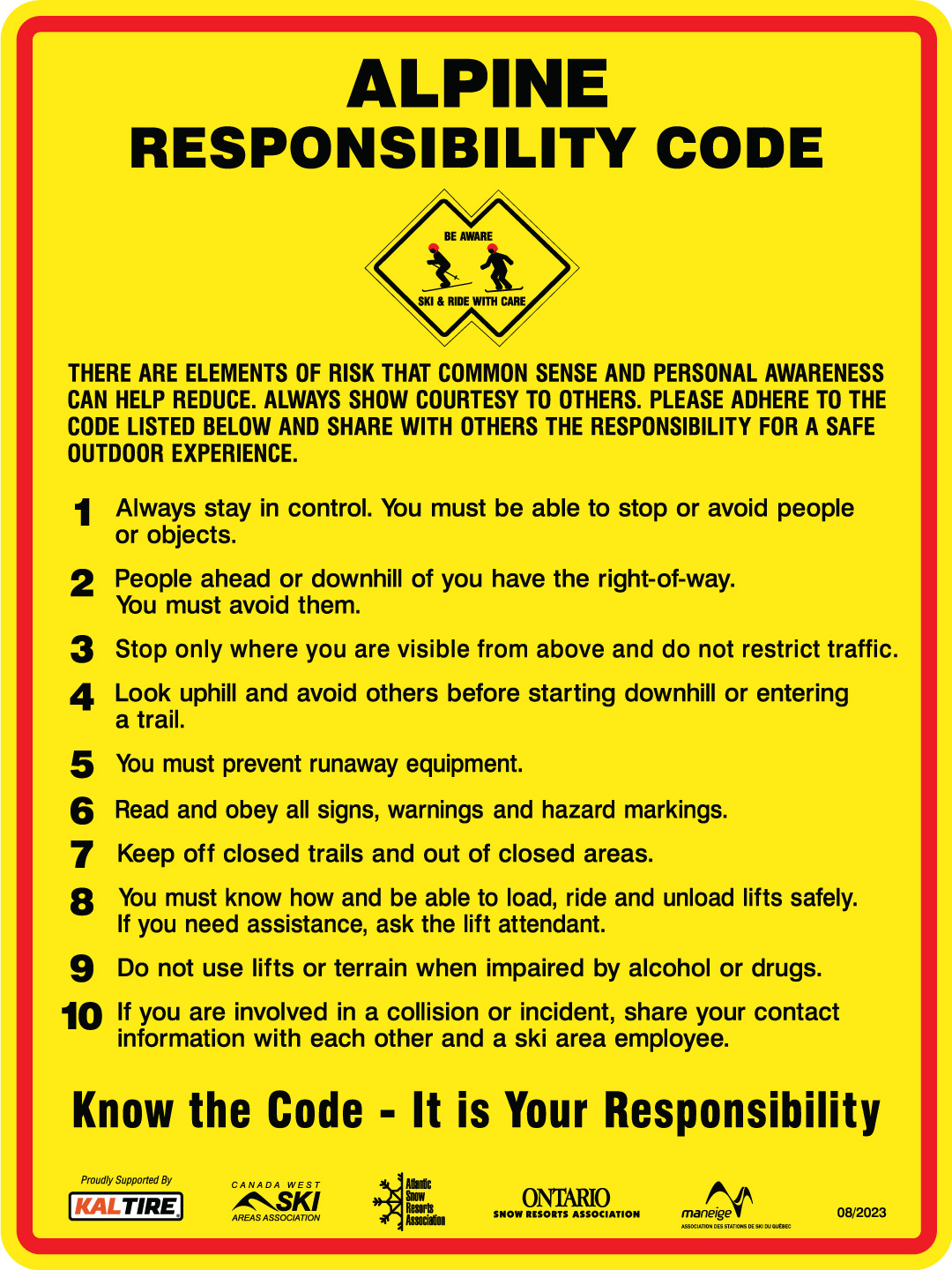 Frequently Asked Questions
Can a student use the SnowPass or my Embrace Card for a school trip?
SnowPass does not allow for these to be used for school trips. Please, see the SnowPass Rules and Regulations.
SnowPass Rules and Regulations
Embrace Cards are not valid for school visits.
What is your cancellation policy?
Please give us as much notice as possible.
For emergency and weather-related cancellations, please provide 24 hours notice.
Do you provide Adaptive Lessons for School Groups?
Through the Canadian Adaptive Snowsports (CADS), Rabbit Hill Snow Resort has several of our instructors certified to deliver lessons to children with Cognitive Impairments (Downs Syndrome, Learning Disabilities, etc) and Autism Spectrum Disorder. For all other accommodations, please contact CADS Edmonton.
If you have students that you think may require an Adaptive Lesson, please contact our group coordinator for more detailed information on this program.
How many volunteers are needed?
We recommend 1 volunteer for every 10 students. In your teacher or volunteer group there should be individuals who are able to ski or snowboard to be a presence on the hill for your students.
When are we able to book?
Our Group Services Coordinator will work with you to find a date and time that is available. We typically book in the following time frames:
Daytime Visits:
Arrival Time: Between 9:00 am - 11:00 am
Departure Time: Between 2:00 pm - 2:30 pm
After School Visits:
Arrival Time: Between 2:30 pm - 4:30 pm
Departure Time: Before close at 9:00 pm