Opening Date for 23/24 Tubing - Saturday, December 16!
Tickets will be on sale starting MOnday, December 11.


Grab your friends and family and come down to embrace winter in a fun new way! Tubing is a great way to get outside and enjoy the beautiful North Saskatchewan River valley in winter - with no experience necessary! 
All you need to do is come dressed for outdoor winter fun, and we will do the rest. Our dedicated conveyor lift will bring you and our specialty tube up to the top, and you can enjoy the ride down one of our 3 tubing lanes! **No ski boots allowed**
All riders must be a minimum of 4 years old AND 42" tall to ride alone in the tube park. Those that are under 42" or are 2-3 years old, may ride in their own tube while tethered to a paying adults tube. NO LAP RIDING IS ALLOWED. During busy periods guests will be required to share tubes with other patrons.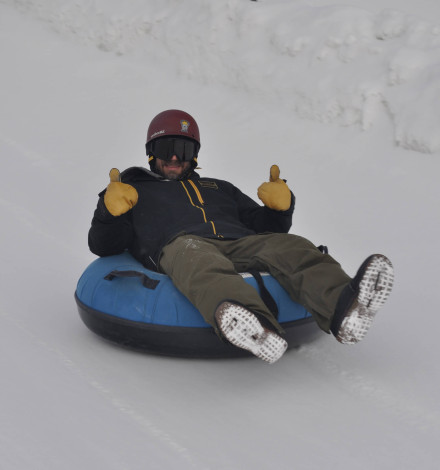 All Ages (2 years & Up)
Weekday - 4 Hours: $28.00

Weekend/Holiday - 2 Hours : $22.00
Have a group of 10 or more? We are now booking Tubing Groups for the 23/24 Season
Choose a time slot to come tubing!
Please Note: If there are no advanced bookings at least 1 hour prior to the start of a time slot, that time slot will be cancelled. If there are less than 10 guests booked for a time slot, the time slot may be cancelled. A refund will be given to those guests already signed up. 
Regular Hours
Time Slots
Thursday
Friday
Saturday, Sunday & Holidays

11:30 pm - 1:30 pm
2:00 pm - 4:00 pm
Special Holiday Hours
Time Slots
December 24

11:30 am - 1:30 pm
2:00 pm - 4:00 pm

December 26

11:30 am - 1:30 pm
2:00 pm - 4:00 pm

December 27 

11:30 am - 1:30 pm
2:00 pm - 4:00 pm

December 28 & 29

11:30 am - 1:30 pm
2:00 pm - 4:00 pm

December 31 & January 1

11:30 am - 1:30 pm
2:00 pm - 4:00 pm

January 2 & 3

11:30 am - 1:30 pm
2:00 pm - 4:00 pm

January 4 & 5

11:30 am - 1:30 pm
2:00 pm - 4:00 pm
5:00 pm - 9:00 pm

February 19 (Family Day)

11:30 am - 1:30 pm
2:00 pm - 4:00 pm
Tubing hours are subject to change at anytime and without notice.
Tubing Cold Weather Policy
If the expected temperatures at the time of your booking are -20 or colder (without windchill) we may close the Tube Park. However, if the expected temperatures are -25 or colder (without windchill) we will close the Tube Park and issue full refunds for any bookings that have not already cancelled. Frostbite can set in within minutes at these temperatures and the speed of our lanes become very slow. Please call 780-955-2440 with any questions regarding this policy.
With Tubing being a new product to Rabbit Hill, there will be operational changes made throughout the season. We thank you for your patience and cooperation as we enter our second season of tubing. Below you will find some answers as to what things may look like in our Tube Park this season.
Updated: Dec 6, 2022
How do I purchase my Tubing tickets?
Tubing tickets will be sold online and in-person at Customer Service. We anticipate a high demand for tubing this season, so we highly recommend booking your date and time in advance online. We would hate for you to be disappointed to discover that we are sold out once you've driven down.
How early should I arrive at the resort for my tubing time slot?
We recommend you arrive at Rabbit Hill at least 30 minutes before your start time. This will give you enough time to find parking, pick up your tickets from the outside ticket window, and prepare yourselves for tubing. During holiday periods, we recommend you arrive at least 60 minutes prior.
Will there be refunds available for pre-purchased tickets?
If you have purchased Tubing tickets in advance and can no longer attend, we can either rebook you for another date and time or you can receive a credit in your account for the value you paid. There will be no cash refunds for Tubing unless Rabbit Hill closes the Tube Park due to weather or unsafe lane conditions.
As a season pass holder for skiing and snowboarding, do I receive discounted pricing for Tubing?
Tubing is not included with skiing/snowboarding season passes, but all season pass holders will receive 10% off Tubing tickets. Tubing tickets for pass holders can be purchased through our online store. You will need to verify your season pass when you pick up your tubing tickets from our outside ticket windows.
Can more than 1 tube go down a lane at a time?
We will allow linked tubes of 2 or 3 go down in one lane. However, this will be dependant on snow conditions at the time and may be restricted by Tube Park staff.
How old do you have to be to ride a tube?
In order to ride in the Tube Park, riders must be at least 4 years old and 42 inches tall to ride a tube alone. Riders 2-3 years old or under 42 inches tall may ride in their own tube while tethered to the tube of a paying adult. There is NO LAP RIDING permitted.
Tube riders must have the physical dexterity to get out of the tube on their own (or have a paying/participating parent to help) and carry it over to the carpet lift. This will be at the sole discretion of the Tube Park staff.
Can I purchase a Tubing ticket and ride the same day that I'm skiing/snowboarding?
As long as there is capacity available, a Tubing ticket can be purchased the same day. Ski Boots CANNOT be worn in the Tube Park, so you must change into proper footwear before going Tubing.
Do I have to wear a helmet while Tubing?
Helmets are not required for Tubing, but we highly recommend them for any outdoor activity at Rabbit Hill. If you want to rent a helmet for tubing, you MUST arrive at least 60 minutes before your start time. Please allow even more time if you are booked during the Christmas holidays.
Do I get a certain amount of runs in my time block?
We do not guarantee how many runs you will get in your time block. This will all depend on how busy the Tube Park is, weeknights tend to be less busy than weekends.
I have a discount voucher for a skiing/snowboarding ticket, can this be used for Tubing.
No, only specific Tubing discount vouchers can be used to purchase Tubing tickets. You must purchase your ticket through Customer Service to use your Tubing discount voucher.
What should I wear for Tubing?
As weather conditions can change at a moments notice in the winter, we recommend you dress in layers. Waterproof clothing, including gloves, is highly recommended to make sure you stay warm and dry. Proper winter footwear MUST be worn in the Tube Park.
I have a group that I would like to bring Tubing, do you have any group rates?
Yes, we offer group rates during our normal operating hours as well as private rentals outside normal operating hours. We rent out our Tube Park for private bookings on Wednesday evenings, Saturday, and Sunday mornings. Please email [email protected] for more information on your group of 10 or more.
How many lanes will you have?
We will have 3 lanes in the Tube Park.
Do I get my own tube?
All guests in the Tube Park will be required to share tubes during busy periods. When you get to the bottom of the tube run, there will be a tube shute to put your tube for the next guest.