December 2, 2021
We did get a fair amount of rain and heavy wet snow this morning and our snow conditions are quite hard at the moment. We are currently recommending beginners visit another day.


Please be careful on the drive out, the back roads will be slippery until the road crews get out to our neck of the woods.


We are excited to see the return of colder temperatures on the horizon so we can groom everything up nice and return to snow making!
We update conditions & trail map information on a regular basis however all of our conditions are subject to change throughout the day.
Rabbit Hill Weather Network Forecast ›
Cold Weather Information
It is the policy of Rabbit Hill that if the daytime or evening temperature is -22°C (without windchill) or colder per the Weather Network for Rabbit Hill, we may make the decision to close.
If we are open and the windchills are -28 or colder the chair lift will not run but all surface lifts will remain open. All main runs are accessible from both T-bars.
Any lift tickets and rental bookings for that day will be cancelled and credited back to your online account. Any scheduled lessons will be rebooked for another day by emailing [email protected].
For our Hours of Operation click here.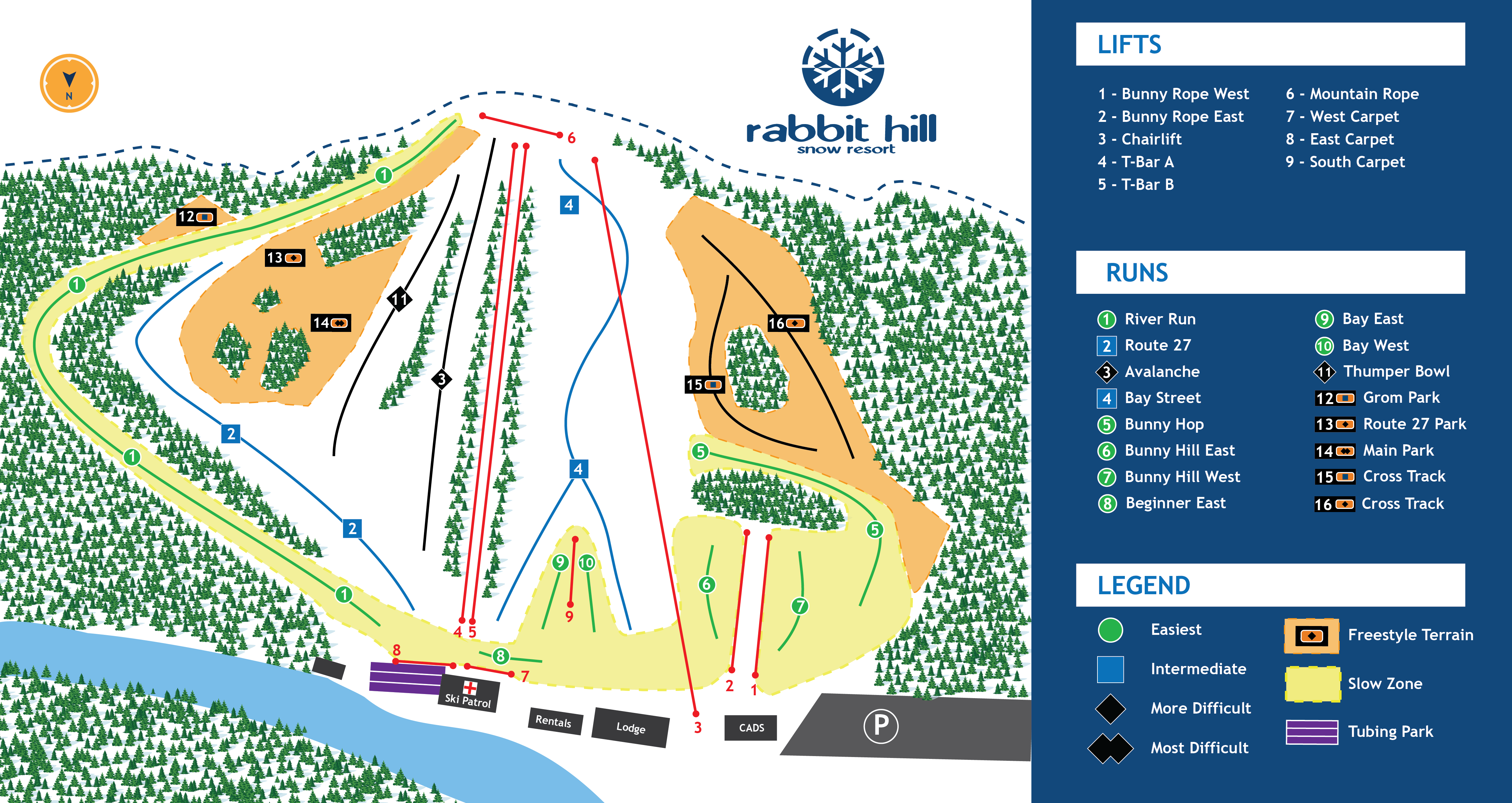 Run
Conditions
Bunny Hill East
Open
Bunny Hill West
Closed
Bunny Hop
Closed
River Run
Closed
Beginner East
Open
Bay West
Closed
Bay East
Closed
Bay Street
Open
Route 27
Closed
Easter Bowl/Cross Track
Easter Bowl Closed
Cross Track Closed

Avalanche
Closed
Thumper Bowl
Closed
Temporary Terrain Park & Grom Park
Open
Terrain Park - Route 27
Closed
Terrain Park - Main Park
Closed
| Lift | Status |
| --- | --- |
| Chairlift | Open |
| Bunny Rope East | Open |
| Bunny Rope West | Open |
| A-Side T-Bar | Closed |
| B-Side T-Bar | Open |
| Mountain Rope | Closed |
| South Carpet | Closed |
| West Carpet | Open |
| East Carpet | Closed |

For your safety: If we experience extreme cold temperatures, high winds, or high wind chills we may shut the chair down for the day, but continue to run the T-Bar. Once it warms up and or winds subside we may start the chair back up.