Hill Report:
This season has seen some of the most challenging weather conditions in the last 15 years at Rabbit Hill. Due to the unseasonably warm weather, we have been experiencing, and the most days of rain in the last 3 years combined, we are experiencing some challenging hill conditions. During the day the snow conditions can become quite soft and slushy. At night, when the weather drops, the snow can become hard-packed and can be especially challenging for beginner riders. We do groom our entire hill every day and are doing the best we can with these challenging conditions. We thank you for your understanding and we hope that mother nature will provide us with better weather and more snow very soon!
Weather Closures:
We update conditions & trail map information on a regular basis however all of our conditions are subject to change throughout the day.

Rabbit Hill Weather Network Forecast ›
Cold Weather Information
It is the policy of Rabbit Hill that if the daytime temperature is -18°C (without windchill) or colder, per the Weather Network for Rabbit Hill, and our daytime schools have cancelled, we may make the decision to open at 5pm or close completely.
If we are open and the windchills are -28 or colder the chair lift will not run but all surface lifts will remain open. All main runs are accessible from both T-bars.
Any scheduled lessons can be rebooked for another day by emailing [email protected].
For our Hours of Operation click here.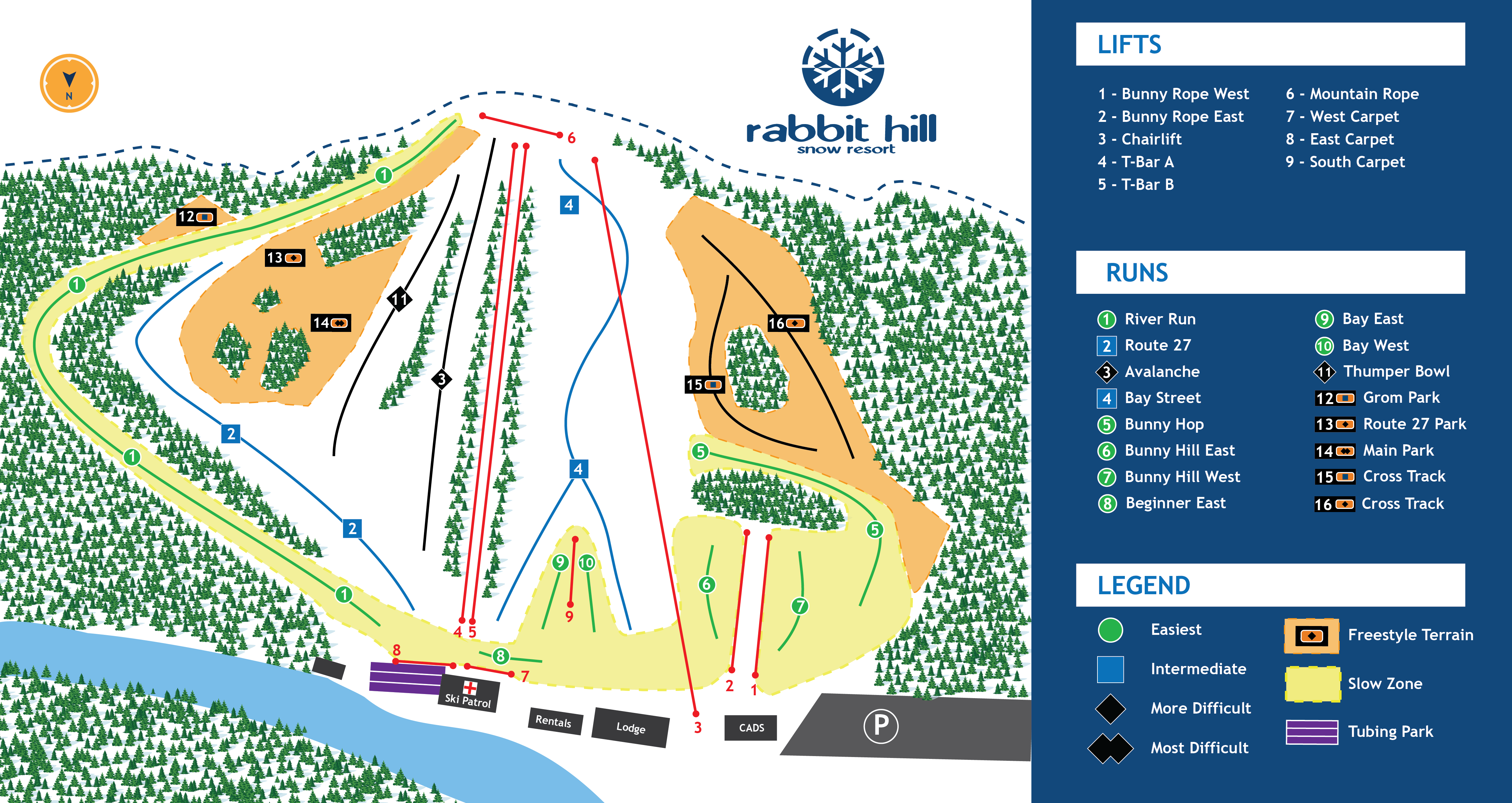 Run
Conditions
Bunny Hill East
Closed
Bunny Hill West
Closed
Bunny Hop
Closed
River Run
Closed
Beginner East
Closed
Bay West
Closed
Bay East
Closed
Bay Street
Closed
Route 27
Closed
/ Easter Bowl/Cross Track
Easter Bowl Closed
Cross Track Closed

Avalanche
Closed
Thumper Bowl
Closed
Terrain Park - Grom Park
Closed
Terrain Park - Route 27
Closed
Terrain Park - Main Park
Closed
| Lift | Status |
| --- | --- |
| Chairlift | Closed |
| Bunny Rope East | Closed |
| Bunny Rope West | Closed |
| A-Side T-Bar | Closed |
| B-Side T-Bar | Closed |
| Mountain Rope | Closed |
| South Carpet | Closed |
| West Carpet | Closed |
| East Carpet (Tubing Carpet) | Closed |

For your safety: If we experience extreme cold temperatures, high winds, or high wind chills we may shut the chair down for the day, but continue to run the T-Bar. Once it warms up and or winds subside we may start the chair back up.